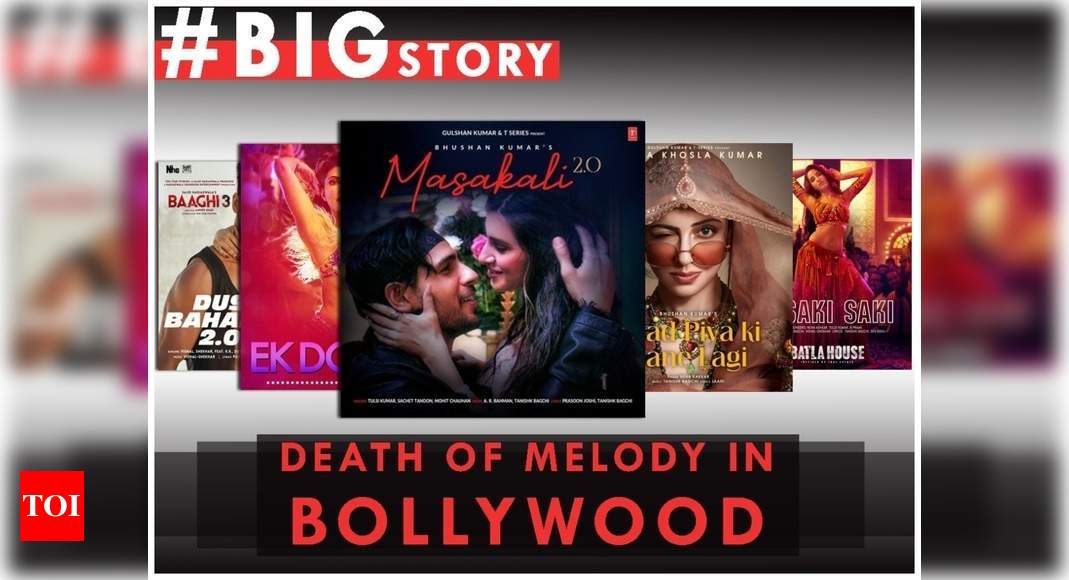 #BigStory : Jaane kahan gaye wo dinn… Musicians and singers lament the death of melody in Bollywood songs – Times of India
What's a song without its melody? Harmonies and layering of vocals and chords make up the intricate details of a song. If cinema is a body of work, then
melody
lies at its heart and gets the mood going. In the past, melody was such an integral ingredient of Bollywood movies that even if the film was below average, the songs made up for a bad script. Can the same be said for films today?
While times change, the longing for soul-stirring music never stops. There has not only been a dearth of originality in music composition over the years but the remakes of the '80s and 90's hits have actually killed the melody of the original song. Senior lyricist Sameer Anjaan agrees; "You are right, the deterioration began around the year 2000." A case in point is that teenagers in music reality shows sing mostly Lata Mangeshkar, Mohd Rafi, Kishore Kumar and Asha Bhosle's songs, isn't it? Amit Kumar says, "Ironical, but that's hitting the nail on the head."
ETimes deep dives and speaks to some legendary stalwarts in the music industry who share their views over this loss of melody and ponder over what they think are some of the reasons for the lack of originality in Bollywood tunes.
Chalta hai attitude
Asha Bhosle tells ETimes that she does not listen to songs of today because she prefers to listen to good songs. Ruing that the music industry has become too fast-paced, Ashaji says, "
Woh zamana hi kuch aur tha, aaj even playback singers are changed midway. Actors are not replaced because that would increase the film's budget.
Hamare
time par, people wanted a specific talent and not just
kaam chalana hai. I remember I was away for a month and a filmmaker waited for a month for me to get back from a holiday for the song, '
Nigahen milane ko jee chahta hai' from '
Dil Hi To Hai'."
Ashaji also believes that often nowadays, one doesn't recognise singers' voices while listening to songs. "I have to ask the youth around me who's singing. Technology may have evolved, but the soul is absent. I remember, we did so much improvisation on what we were told to do and ended up only enhancing the numbers. We worked very hard. We always thought that the song that we were singing should not be our last song."
'
Teri galiyaan' singer Ankit Tiwari, believes today's technology has cut off the composer from the filmmaker. "Earlier, we had a composer, an arranger and a programmer. All three are extremely essential to make a tune flow melodiously. Today, there is no arranger. The machines have come in to arrange. And, many filmmakers then start to directly coordinate with the programmer."
Social media language and hook lines
Salim of Salim-Sulaiman duo says, "
Aaj gaana YouTube ke liye banaya jaata hai taki woh trend kare. Social media language is used, hook lines are inserted. This in turn makes it a visual medium. Why should songs be designed in terms of making them a visual delight? Music is for the ear, not the eye. How can this be a melody? There is no actual work being done on the songs to make them a
lambi race ka ghoda. Where are the Madan Mohans and Jaidevs? The last good and complete album I heard was
Ae Dil Hai Mushkil, which was four years ago. As for Suleiman and I, we have done pretty decent work and are very proud to have never succumbed to illogical demands and short-term gains."
Too many music directors in one film
Salim further adds, "Another problem is the fact that music labels pit composers against each other when they sign up three-four composers for one film. This in turn does not make the music converge, which is so vital. And mind you, this creates unhealthy competition and animosity in our fraternity instead of brotherhood, which is the need of the hour. In the opinion of the label owners, this might be giving them good stuff but a cross-sectional opinion of the people with a good sample size will provide you the right answer or let's say, real truth."
The curse of the remixes
Sajid (of Sajid-Wajid
jodi) differs with Salim that one single composer needs to be at the helm of a film. "
Hum bhi toh kahin na kahin add huye the, for a start. So that would be depriving others of a chance if we object," but the chat with him veers to remixes which is his main bone of contention. Says Sajid, "Melody has vanished, and seems people have no way to recover it.
Isliye purane gaane revamp ho rahe hain. You can't even call them remixes as only the arrangements are being rearranged.
Unke kapde badle ja rahe, insaan wahi hai."
The change in story telling
Head honcho of Venus — a music label that has slowed down in recent times — Ratan Jain, who has produced super hits like
Baazigar explains the plausible reason of remixes having become the flavour of all seasons and why he's going slow. "We slowed down because buying music rights in lots does not make commercial sense. Producers are asking for exorbitant amounts depending upon the saleability of the hero. But look at the quality of the product they provide!" But he does not blame the music labels. Taking a pragmatic stand, he says, "I think that the story telling has changed. There's no romance in current movies, so there will be fewer songs. Also, let me tell you that today's filmmakers feel that they don't need a song even if the hero and heroine are romancing. If you notice, the lip syncing in songs has almost ended. Makers say
'agar hero pyar mein hai, toh woh gaana kyun gaayega? Maybe that's why you see that creations are decreasing and remixes are increasing."
Ace lyricist Sameer Anjaan also comes down heavily on remixes. The
Dil and
Baghban lyricist is peeved that rather than the original writers and composers, it is the remix team that is credited for the new versions. "That's so unfair," he says.
Absence of poetry in lyrics
"The golden years of music are over. I don't know where has music gone," says Randhir Kapoor. "It's a sort of death of melody.
Woh banane wale jo thhe ab woh nahi hain. Woh dinn aur thhe, Woh udaan aur thhi. There is no poetry. It's only noise. I can't understand so many lyrics. Tell me, do you think that we'll have someone like Rafi, Mukesh and Kishore again? Never." Hinting that not only singers but even the music directors need to buck up, Raj Kapoor's eldest son says, "I am very thankful to Shankar Jaikishan, RD Burman, Bappi Lahiri, Laxmikant Pyarelal, Kalyanji Anandji and Ravindra Jain because they gave good songs which were picturised on me."
No heartfelt emotions
Music label Tips was a prominent name in the music industry. Its head honcho, Kumar Taurani, says that it's all because the equation of demand and supply has changed. "Attention span has decreased and nobody has the will to invest time in listening to a song, leave aside like it. You need to invest time in music and only then you develop a bond with it. Gone are the days when we hated to lend cassettes and records to our friends and relatives,
kahin kharab na ho jayen we feared.
Ek tadap thi gaana sunane ki, jo bujhti nahi thi until you reached your gramophone or tape recorder.
Aaj your gramophone and tape recorder is your phone, so the speed and ease with which you get to hear the song at the flick of a button has destroyed your craving and love for music. Add this to the fact that relationships are crumbling, so romance happening in real life lacks depth. Most songs are feelings of the heart, so where will good compositions come from when you don't think from the heart? Now when the demand is of such kind, the quality of the supply will definitely be adversely affected.
Aaj ka musician
utni mehnat nahi karega jitna pehle ka musician karta tha." he adds. "We ruled the market in the 90s but yes, nowadays we don't indulge much in buying music rights."
Music labels not giving enough freedom to artists
Amit Kumar says music labels need to stop interfering to the degree they do. Talking to ETimes on whether melody has disappeared, Amit Kumar agrees, "Good songs today are few and far between. Earlier 90 per cent songs that were made were extremely pleasant. Today 10 per cent songs would fit that bill. There is no harmony in the roll-out, so how will any melody be generated? If melody was being generated, wouldn't people still remember the songs in entirety as they did so predominantly in the past? Today, you cannot sing beyond two to three lines of any song." He points out, "The music labels are supervising everything. I don't think the artists are given sufficient freedom/authority. They would be the captain of the ship in my father's times or even when I was singing in several films. I remember, my father contributed so much to his own songs. Recording
khatam hone ke baad he spent hours listening to the song he had sung.
Kahan hai woh involvement and passion of those days?"
Raveena Tandon, whose films had terrific songs like
Kabhi tu chaliya lagta hai ('Patthar Ke Phool') and '
Tu cheez badi hai mast mast' (Mohra) is however sitting on the other side of the fence. She has a valid point that soulful music still exists, saying "Arijit Singh, Ankit Tiwari and Armaan Malik are examples," but does not endorse that melody has ceased to exist or even declined.
Ankit Tiwari returns to say, "Hard work is, by and large, absent. So does Amit Kumar, "We used to have 20 rehearsals for a song. I remember O P Nayyar, in particular, was very strict. My father never shied away from long rehearsals." Endorses Sajid, "Many musicians of today seem to lack the urge to go the extra mile if and when their songs are rejected."
However, hope isn't lost. There will always be an audience for good music. There is no other part of cinema that touches your soul and moves you like a well-composed song. While times are changing and the future of music might be defined by technological aspects like autotune and others, nothing can ever replace the beauty of a simple soulful tune.