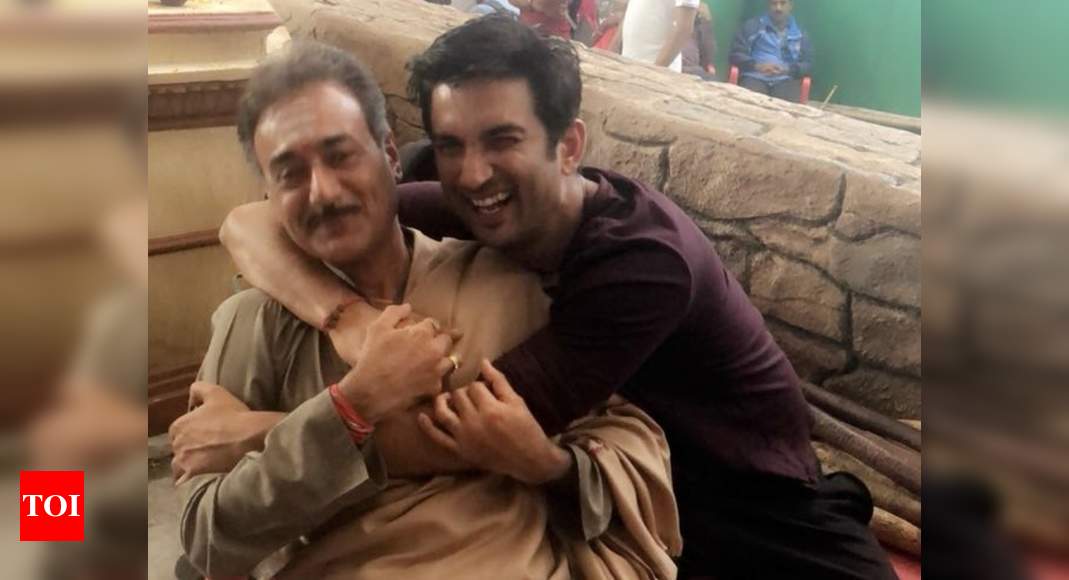 Exclusive! Nitish Bhardwaj on 2 years of 'Kedarnath': I had a little altercation with Sushant Singh Rajput and felt like throwing him out of my house – Times of India
Today late
Bollywood
actor
Sushant Singh Rajput
and
Sara Ali Khan
starrer hit film '
Kedarnath
' helmed by filmmaker
Abhishek Kapoor
clocked 2 years since its release in 2018. While fans continue to trend #2YearsOfSSRAsMansoor to fondly remember the young the actor with several stills from the film, ETimes exclusively connected with actor Nitish Bhardwaj who played the role of Sara Ali Khan's reel father, Pundit Briraaj Mishra aka Pundit ji. The ace actor opened up about his experience of working with Sushant and Sara in 'Kedarnath'.
Excerpts:
2 years of 'Kedarnath'. How was it working with the team?
Throughout 'Kedarnath' shooting schedule, we all had a good relationship including Sushant and Sara. Everything went very well and we had a lot of fun.
Tell us something about your character in the film
In 'Kedarnath' I player a father's role that I am not. I can say the way Pundit Briraaj Mishra was written, he was a very typical male chauvinistic father who is adamant about his values. Someone who didn't change with the times and wants his daughters to do what exactly he wants in the film. And I'm too progressive for that.

But your role was very convincing
Yes because I portrayed it that way but so many girls must have hated me.
Any fond memory of working with Sara Ali Khan
There was a scene where I was supposed to slap Sara. So, Sara being a very committed debutant wanted me to slap her actually and she kept on convincing me to slap her for almost two days before that scene. She would tell Abhishek Kapoor also why it's important for me to slap her so that she can emote better and it was very funny. Then even Abhishek told me, "Sir usko ek thamacha mar dijiye". I kept on saying no to them till the last close-up shot, where I kind of brushed my fingers against her cheek that came as a surprise to her and she reacted to it. I had deliberately scolded Sara to create tension between me and her before the shot. You have to do all these so that the spontaneity of the colleague comes out.
What about Sushant?
Again that memory comes with a slap, because after slapping Sara in the film, I had slapped Sushant as well in a scene. When we were shooting in Mumbai, I remember he came to my house the next morning and the way our rehearsal went, I just felt like throwing him out of my house. So what had happened is, I rehearsed in a particular way and he suggested another way as he wasn't getting the reaction that he wanted. In the end, Abhishek Kapoor approved the way that I was doing it, so Sushant actually got upset with me and we had a little altercation which I have never spoken to anybody about. So, he went on blabbering things like 'just because you can't do it, you don't want to do it" and blah blah blah.
I would take it as overstepping towards an established senior actor. However, I only told him that I would do whatever my director would ask me to do and told him why don't you convince the director to do it in your way. Eventually, we gave the shot and after that, he came and hugged me. He was like "am sorry sir, mai kyun bol dia aisa sorry I shouldn't have said those things to you." So it was very sweet of him and at that moment someone had clicked our picture where I was sitting on a chair while SSR was right next to me. In the meantime, Sara was in the vanity van and someone had told her that Sushant misbehaved with sir, so she also came running by then. So, in the short-temperedness of the day, he said things like that, otherwise, he was never like that. But these are all creative altercations that keep on happening in our work environment. Later he had sent me chocolates.