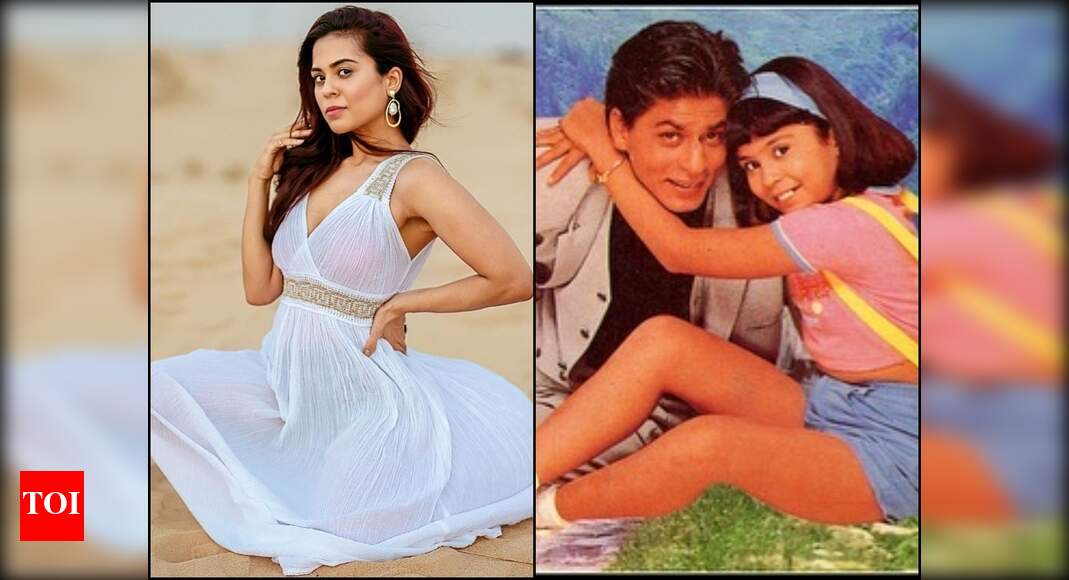 Exclusive! Sana Saeed on her journey in Bollywood: It's really not a struggle if you are doing what you love – Times of India
Actress
Sana Saeed
rose to fame after she featured in
Shah Rukh Khan
,
Kajol
and
Rani Mukerji
starrer '
Kuch Kuch Hota Hai
'. She played the role of sweet little Anjali and won million hearts with her cute antics. Sana was 8-years-old when she made her first appearance as a child actor in
Karan Johar
's directorial.
Recently, ETimes got in touch with Sana, who expressed her happiness and gratitude over the fact that people still remember her as Anjali. She said, "It feels great that people recognize you after so many years. I feel a lot of gratitude that I got an opportunity to play such an important character at such a young age. And I was so small I never knew that a role like that could go down in history. It makes me very humble and a lot of fun also because I feel like 'wow! People still recognize me from when I was 8 years old (laughs)'. And every weekend almost, the film is still on TV, so nobody has really forgotten about it.
The actress also opened up about her casting experience. She revealed she was always a working child actor and used to do advertisements back then. Speaking about it, Sana said, "I was a working child actor, doing a lot of ads when I was young and through the ads, I got an opportunity to go and audition for Karan Johar's 'Kuch Kuch Hota Hai'. I went about a lot of rounds of auditions as he was auditioning a lot of children at different locations and then I was shortlisted and finally selected." Revealing if the process was smooth for her or if she had to struggle, she said, "It's really not a struggle if you are doing what you love. We call it a struggle as we grow up (laughs). Even as a child it takes effort to go to auditions and learn dialogues but I wouldn't call it a struggle. You only struggle if you do things that you don't like. But if you are constantly pursuing what you like to do and love then, it's a journey and it has its ups and downs."

Sana, who made her adult debut in Karan's 'Student of the Year' alongside Alia Bhatt, Varun Dhawan and Sidharth Malhotra, also spoke about her fondest memories with SRK, Kajol, Rani and Salman Khan. She went on to call SRK 'very warm' and 'loving'. "I had a beautiful experience working. And since I was a child, there was so much love and they were so patient with me. I had most of my scenes with Shah Rukh and I remember him being very warm and loving. He would give me the time to do my lines and it was very comfortable all around. It never felt like 'Oh my god, you are working with Shah Rukh'. I just felt like he was a very warm and loving person and very easy to work with," she said.
She further added, "Similarly with all the other actors, I didn't have so many scenes with Rani since she plays my mother but she dies in the film after I was born. I didn't have too much interaction with her except in my promos. But I did do another movie later called 'Badal' with Rani. She is absolutely fun-loving and chilled out. Similarly, with Salman Khan and Kajol, they were all really beautiful on sets. They treat you like a little kid and as you know we all love kids so."
When asked if she in touch with any of her co-stars, she replied, "I am not in touch with any of them but I met Karan again for 'Student of the Year' and Shah Rukh's company was producing it, so I met him on the sets. I met Karan again on 'Jhalak Dikhlaja' since he was the judge. SRK had also come there to promote his film. So I keep meeting them. Similarly, life has come full circles and I keep somehow meeting these people through work."
Apart from films, she has also been a part of several TV shows.