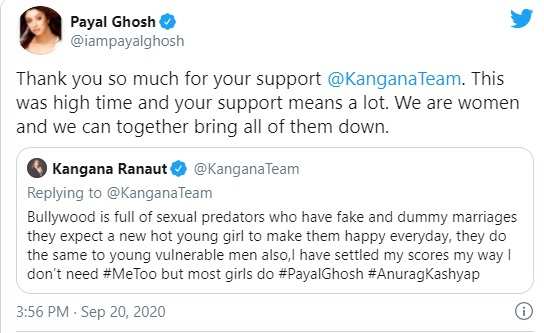 Payal Ghosh thanks Kangana Ranaut for her support: We can together bring all of them down – Times of India
Actress
Payal Ghosh
recently accused filmmaker
Anurag Kashyap
of
sexual harassment
. Her claims were supported by
Kangana Ranaut
who also shared her struggles in
Bollywood
. Payal has now taken to her Twitter handle to thank the 'Manikarnika' actress for her support.
Expressing her gratitude towards Kangana Ranaut, Payal wrote, 'Thank you so much for your support @KanganaTeam . This was high time and your support means a lot. We are women and we can together bring all of them down.'
Check out the tweet here:

After keeping mum for over six years, Payal recently opened up about the incident that she says happened in 2014 where she was molested by Anurag Kashyap.
Soon she found support in Kangana Ranaut who shared her journey and experience in Bollywood. She tweeted saying, 'Bullywood is full of sexual predators who have fake and dummy marriages they expect a new hot young girl to make them happy everyday, they do the same to young vulnerable men also,I have settled my scores my way I don't need #MeToo but most girls do #PayalGhosh #AnuragKashyap'

Check out the tweet here: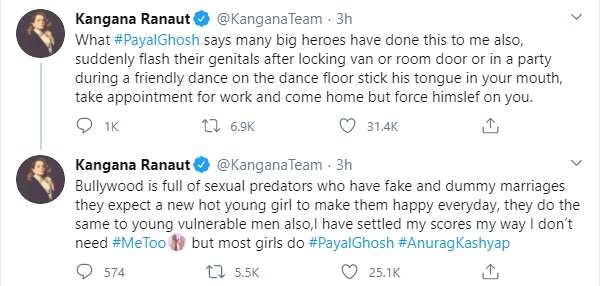 Elaborating further, she added, 'What #PayalGhosh says many big heroes have done this to me also, suddenly flash their genitals after locking van or room door or in a party during a friendly dance on the dance floor stick his tongue in your mouth, take appointment for work and come home but force himslef on you.'

Anurag Kashyap, who denied all the accusations leveled against him, announced on twitter that he has been asked to stay silent on the matter.