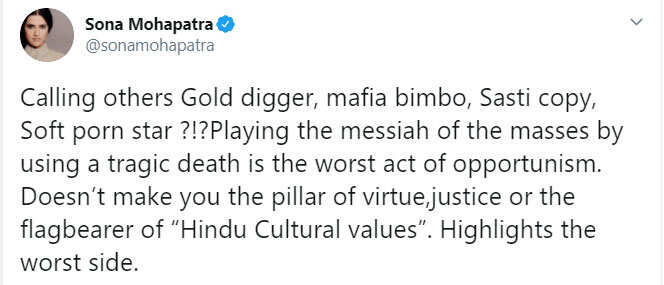 Sona Mohapatra slams Kangana Ranaut for 'playing messiah'; says 'using a tragic death is the worst act of opportunism' – Times of India
Singer
Sona Mohapatra
vehemently condemned actress
Kangana Ranaut
for "using" the tragic death of actor
Sushant Singh Rajput
to "play messiah."
Calling out the actress for her recent statements that created an uproar on social media, Sona said that Ranaut's actions didn't make her a 'flag bearer of Hindu Cultural values' but highlighted the 'worst side'.
Referring to Kangana's recent controversial statements, Sona tweeted, "Calling others Gold digger, mafia bimbo, Sasti copy, Soft porn star?!? Playing the messiah of the masses by using a tragic death is the worst act of opportunism. Doesn't make you the pillar of virtue, justice or the flag bearer of 'Hindu Cultural values'. Highlights the worst side."

The singer also shared an open letter she penned to Ranaut in 2017, and although not too proud of her choice of words, she claimed she "had smelt the problem a mile away."
The open letter in question had Sona criticising Kangana for doing a "disservice" to feminism by washing her "dirty linen in public."
With the letter, came a wave of criticism from fans, and feminist alike who slammed Mohapatra for trying to 'monopolise feminism'.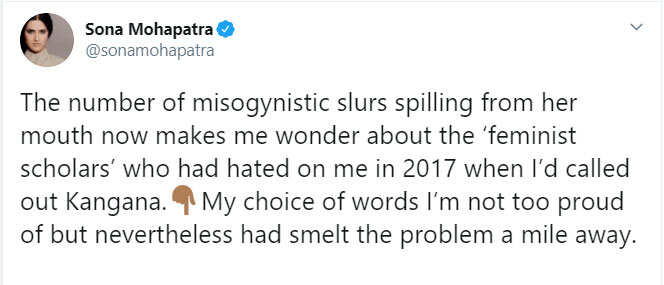 "The number of misogynistic slurs spilling from her mouth now makes me wonder about the 'feminist scholars' who had hated on me in 2017 when I'd called out Kangana," Sona said in her tweet.