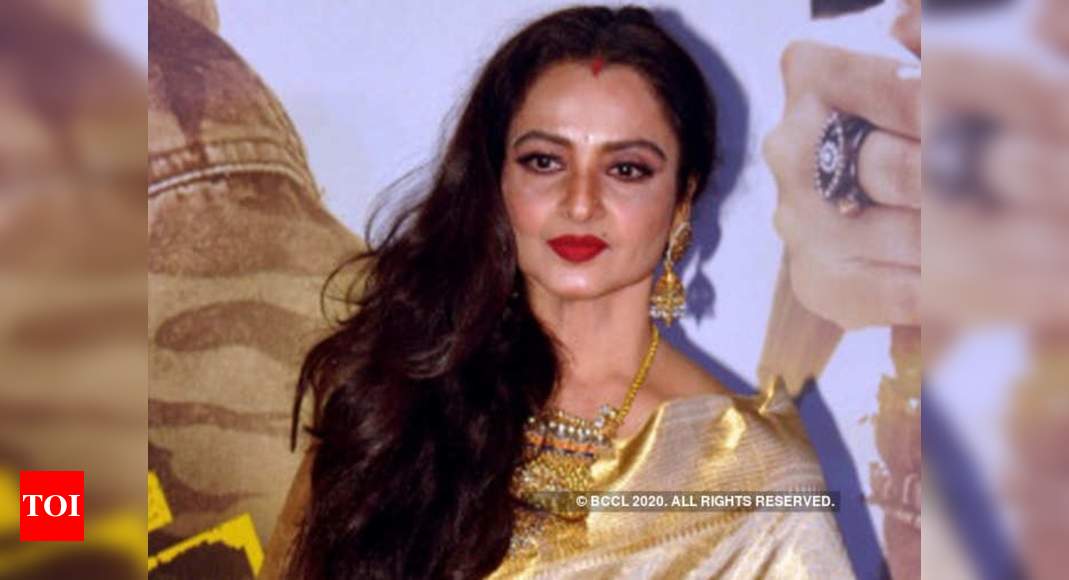 The witch-hunt that broke Rekha and changed her forever – Times of India
Rekha, as we know her today, is the 'reclusive diva' of Bollywood. We are in awe of this particular image. It has an air of secrecy. It smells of mystique. She rarely speaks to the media. Since the last three decades, there's hardly an interview of
Rekha
where she seems to express her feelings or thoughts without restraint. But was this always the case? Was she always reclusive and silent?
As her biographer, I was stunned to read the sensational cover stories and uninhibited interviews of Rekha. There were hundreds of interviews per year, throughout the 1970s-80s. Delicious and shocking interviews. Then what happened that Rekha went from being the Kim Kardashian of the 1970s and '80s – attention-seeking, exuberant and sexually frank to a degree not seen in India even today – to a Greta Garbo-esqe figure, tragic and reclusive?
The answer to this question lies in the year 1990.
But before we talk about the trauma of 1990, we should know that there were long initial years of vicious sexist attacks by colleagues in the film industry and the film media. She was subjected to harrowing body-shaming. For instance, when Kuljeet Pal cast Rekha for his film, the actor Raaj Kumar, of Mother India and Waqt fame, reportedly remarked to the Nairobi-based Pal, "You're from Africa. No wonder you like black girls!" Her first hero Navin Nischol told his producer: "From where did you pick out this namoona [character]? Itni kaali-kalooti [So dark and ugly]!" Shashi Kapoor remarked at an event "How is this dark, plump and gauche actress ever going to make it?"
Yet, Rekha went on to become the top female star of Bollywood winning a national award.
Then came the most devastating blow. Rekha's estranged husband of a few months, the Delhi businessman Mukesh Agarwal committed suicide. He had been clinically depressed for years. Then began the witch hunt. Mukesh's family, the media and her colleagues in Bollywood blamed Rekha for her husband's death without any base. In the manner of films, some went on record to say:
"
Wo daayan mere bete ko kha gayi"
"Rekha has put such a blot on the face of the film industry"
"She's become the national vamp. Professionally and personally, I think it's curtains for her."
"I don't know how will I react to her if I come face to face with her!"
The headlines in the film magazines were: "The Black Widow" and "How Rekha drove Mukesh to Attempt Suicide". Her film that was playing at that time,
Sheshnaag, was boycotted, and her face was blackened on its posters.
The crazy witch hunt pushed Rekha into a deep shell. She closed her doors for everyone. She did not meet or talk to the press for months. And then she made a grand comeback the next year with a super hit film (
Phool Baney Angaarey). But it was clear that something had changed inside her. She was no more the outspoken and sensational conversationalist. She was now a recluse.
The witch hunt of Rekha has a recent parallel. Post Sushant Singh Rajput's
Death by suicide, his girlfriend Rhea Chakraborty went through similar distress. In her media trial that went on for months, Rhea was branded a
Vishkanya, a drug peddler and a gold digger who 'pushed' Sushant to death. She was attacked every night in the prime time bulletins till she was arrested in the drugs case.
Rhea got bail after spending a month in jail. Bombay High Court cleared her in the drugs charge. "There is nothing at this stage to show that Rhea had committed any offence involving a commercial quantity of contraband," the judge said.
The CBI also remarked that they found no evidence of any money trail indicating that Rhea Chakraborty stole money from Sushant Singh's accounts. She wasn't after all a 'gold-digger'.
But from Rekha to Rhea, years apart, both women faced a similar witch hunt. It becomes clear that Bollywood and perhaps Indian society cannot still stomach the idea of an outspoken, sexually independent and successful woman.
Rekha was ultimately broken. The event had changed Rekha forever.
Author Note: Yasser Usman is the author of three acclaimed film biographies: Rekha: The Untold Story; Rajesh Khanna: The Untold Story of India's First Superstar and the biography of actor Sanjay Dutt.